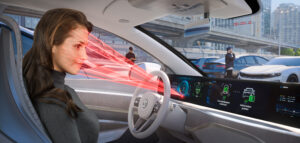 Continental and trinamiX have unveiled the Driver Identification Display, a new product to protect against vehicle theft. The smart interior solution features an integrated camera for biometric driver identification.
The Driver Identification Display is claimed to be the world's first automotive display for a vehicle interior that enables contactless and highly secure authentication while helping to prevent fraud and theft. Similar to facial recognition used on today's smartphones, the new technology means a vehicle can only be started once the person in the driver's seat has been authenticated.
The solution also enhances other convenience features such as digital payments, which are processed using the car display for refueling, parking, paying tolls or car rental.
Continue reading Continental and trinamiX reveal driver identification display to protect against car theft at Automotive Interiors World.
For Feedback & Comments, please write to us on hello@newswire.ae