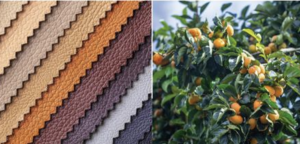 A collaboration agreement has been signed between Grupo Antolin and PersiSKIN – a startup that produces a plant-based material as an alternative to animal and synthetic leather – for the development and supply of a vegetal skin which meets the requirements for use within automotive interiors.
PersiSKIN, based in Valencia, Spain, uses surplus persimmon harvest to manufacture the vegetal skin. The country produces 500,000 tons of the fruit per year but only half reaches the consumer, meaning PersiSKIN's use of the surplus fruit also provides environmental advantages.
Unlike other alternatives to leather which are based on the use of agri-food waste or by-products, the PersiSKIN solution integrates more than 75% of organic vegetable content in the material.
Continue reading Grupo Antolin and PersiSKIN to co-develop automotive-grade material from fruit waste at Automotive Interiors World.
For Feedback & Comments, please write to us on hello@newswire.ae