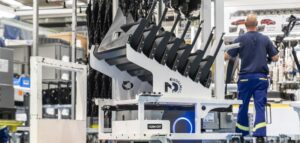 As part of its Advanced Manufacturing 4.0 strategy, Grupo Antolin is integrating digital technology at its Aragusa factory in Burgos, Spain, to reduce and optimize the movement of components in the facility.
This has been achieved through the deployment of an intelligent intralogistics system at the factory which uses autonomous mobile robots (AMRs) and collaborative robots (Cobots), manufactured and supplied by Omron. Through the project, Grupo Antolin aims to achieve "a modernized and more sustainable factory where people and machines work in harmony".
Previously, the loading and transportation of car interior components from the injection area to the assembly area were carried out manually.
Continue reading Grupo Antolin implements autonomous intralogistics system to enhance interior component factory efficiency at Automotive Interiors World.
For Feedback & Comments, please write to us on hello@newswire.ae