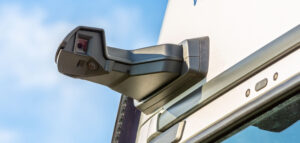 A new MAN 26.510 TGX 6×2 tractor featuring the advanced OptiView mirror-replacement system has been supplied to Hammond Transport, which has become one of the first hauliers to use the system in the UK.
OptiView replaces all conventional mirror arms and mirrors with five exterior cameras, two on either side of the tractor, mounted above the door frames close to the leading edge of the A-pillars, and a fifth camera which replaces the forward facing Cyclops mirror.
The smart safety solution delivers close-range, wide-angle and blind spot displays to increase the field of vision to provide the driver with a much better overview of the surrounding traffic and pedestrian situations.
Continue reading Hammond Transport becomes one of the first UK adopters of the MAN OptiView mirror-replacement system at Automotive Interiors World.
For Feedback & Comments, please write to us on hello@newswire.ae