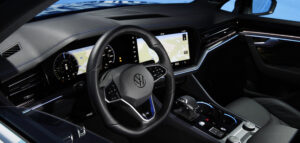 Having made its debut on the third generation Volkswagen Touareg, the Innovision Cockpit has undergone several revisions which will feature within the 2023 Touareg.
As previously, the cockpit is operated using a combination of the 15in central touchscreen display, the multifunction steering wheel and traditional, analog elements like the volume control in the center console.
For the new 2023 Touareg, Volkswagen has introduced lane-precise navigation and high-resolution HD map data for enhanced navigation. The German OEM has further developed the voice control system, and  app integration through a smartphone and App Connect using Apple CarPlay or Android Auto can now also be done wirelessly.
Continue reading Latest Volkswagen Touareg SUV to feature enhanced Innovision Cockpit at Automotive Interiors World.
For Feedback & Comments, please write to us on hello@newswire.ae