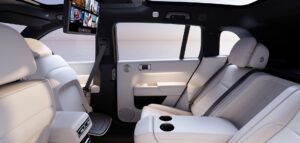 Chinese EV manufacturer Li Auto has launched the Li L7, a five-seat family SUV which comes in three different trims, the Air, Pro, and Max to cater for a range of requirements. The Li L7 is 5,050mm-long and 1,995mm-wide, enabling the SUV to benefit from a spacious interior and a generous 1,160mm worth of legroom in the rear.
At the back of the front passenger seat is an electric footrest, a central armrest and electric seats which can be adjusted to have provide a back recline of between 25° and 40°. Furthermore, the seats have been designed with a 270° embracing design, and the right second-row seat can be converted to a "Queen's Seat" with the press of a button to provide a "strain-free riding experience".
Continue reading Li Auto merges comfort and practicality with the Li L7 at Automotive Interiors World.
For Feedback & Comments, please write to us on hello@newswire.ae