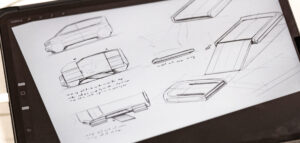 Two UK students have been selected to work with CALLUM and Motability Operations on the design of a new electric Wheelchair Accessible Vehicle (eWAV) interior.
A project named Design Hacks, organized by CALLUM and Motability Operations, saw almost 150 students propose design ideas for the next generation of eWAVs to make electric vehicle mobility accessible for all. From these entrants, two students – Zoe Graham, a fourth-year bachelor of engineering student of product design at The Glasgow School of Art/Glasgow University, and Yikuan Zhang, a third-year bachelor of arts student studying automotive and transportation design at Coventry University – have been selected by the judging panel to work alongside the companies on the design and engineering of a new eWAV.
Continue reading Students win placement at design firm CALLUM to help design wheelchair-accessible vehicles at Automotive Interiors World.
For Feedback & Comments, please write to us on hello@newswire.ae