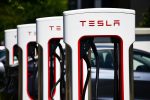 The White House has announced that electric-vehicle charging stations utilizing Tesla standard plugs will be eligible for substantial federal subsidies. However, there is a condition: these charging stations must also include the U.S. charging standard connection known as CCS (Combined Charging System). This statement comes after major U.S. automakers Ford Motor Co. and General Motors declared their adoption of the Tesla model for charging, known as the North American Charging Standard (NACS). This move has disrupted the charging industry, which was previously leaning towards the rival CCS connection with the support of federal subsidies.
This marks the first time that the Biden administration has directly linked Tesla to its initiative to allocate up to $7.5 billion for the construction of new, high-speed chargers along approximately 7,500 miles of the nation's busiest highways. Following the news, Tesla's shares experienced a significant increase of up to 7.5%, although they later settled at a 4.1% increase, closing at $244.40. Analysts believe that the adoption of Tesla Superchargers as an industry standard in the United States by Ford and GM represents a significant victory for Tesla. As a result, GM and Ford shares closed with modest gains of 1.1% and 1.3%, respectively.
However, the alliance between the three automakers caused the shares of EV charging startups such as ChargePoint, EVgo, and Blink Charging to plummet by 11% to 13%. This development has raised concerns about the future of these companies. Earlier this year, the Biden administration established minimum standards to ensure accessible, reliable, and affordable publicly funded EV charging for all drivers, with the requirement of interoperability to foster competition. The spokesperson for the White House, Robyn Patterson, stated that these standards allow for the addition of both CCS and NACS, as long as drivers can rely on a minimum of CCS. The ultimate goal is to ensure that every car can utilize every publicly funded charger, including Tesla Superchargers, as it represents a step forward in expanding high-quality charging availability. The statement, however, did not specify whether Tesla providing a CCS adapter to connect with non-Tesla chargers would be sufficient.
Earlier this year, the Biden administration welcomed Tesla's decision to open up its charging network to competitors, but did not delve into the specifics of Tesla's involvement in its charging efforts. Most major global automakers in the United States, including Volkswagen, Hyundai Motor, and Kia, utilize the CCS network.
The recent partnership among three prominent U.S. automakers guarantees that over 60% of the country's EV market will have access to Tesla's North American Charging Standard. The future of other charging systems will depend on policymakers, as Tesla's network is currently more extensive and reliable compared to the alternative CCS system, which the government has been supporting with federal funds. Blink's spokesperson expressed a welcoming attitude towards working with Tesla on interoperability, while EVgo's Chief Commercial Officer stated their commitment to serving all EV drivers, regardless of the fast charging connector they use. ChargePoint did not provide an immediate comment on the matter, and smaller EV companies like Rivian and Lucid did not respond to requests for comment.
Tesla has been testing the use of CCS connectors to enable non-Tesla vehicles to access its Superchargers. Recently, the Biden administration updated its guidelines, stating that individuals would receive federal subsidies for purchasing proprietary adapters compatible with permanently attached CCS connectors. This update potentially makes Tesla's adapters eligible for the grant. Since the announcement of the charging collaboration with Ford on May 25, Tesla's market value has increased by over $200 billion, further solidifying its position as the world's most valuable automaker. Elon Musk, the CEO of Tesla, expressed in a tweet that it would be "ideal" for Tesla chargers to only require CCS adapters to meet federal charging standards.
Source: Reuters
* This article was originally published here